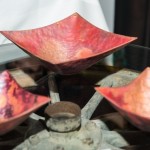 Armstrong & Carter Ironworks

Megan Carter is a practicing Artist Blacksmith, born in Kingsville, Ontario in 1991. She began her metalworking studies at Haliburton School of The Arts in 2010, following an initial year of arts studies at the college. Working mostly in mild steel and copper, her work has moved towards furniture making and functional pieces featuring reclaimed objects. Future endeavors include sculptural work incorporating stretched fabrics with elements of light and collaborations with glass artists.
Mike Armstrong was born in Georgetown, Ontario in 1990. He has been working with metal for 8 years. His experience began with steel manufacturing and fabrication in high school followed by a year of employment in a sheet metal fabrication shop. Becoming more interested in traditional and creative metalworking he enrolled in the Artist Blacksmithing program at Haliburton School of The Arts in 2010. Most recently Mike has become interested in traditional lock making.
After their studies at Haliburton School of The Arts Mike Armstrong and Megan Carter combined their skills and efforts to become Armstrong and Carter Ironworks. January 2012 they opened their own shop in Georgetown, Ontario. Their work is now available at the local galleries and consignment shops – The William's Mill Gallery and The Artisan's Attic. A collaborative sculpture with some of their glass artist peers has also been accepted into the 2014 Elora Sculpture Project.
[cincopa AcNAu2bobIPK]
A&C Ironworks was one of the CACC vendors at #FAJOsocial 2014:The Summer Party, July 16, The Distillery District, Toronto
[cincopa A0DAq3bdImGi]