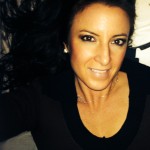 Sarah is a true renaissance woman. She has chosen the paths of an Abstract Artist, Wildlife Biologist, and Fitness Coach. Sarah began painting and drawing when she was only 3 years old, and continued through public and high school, participating in various art exhibits and shows. She also had a love for animals and the environment, which had led her to the University of Waterloo where she earned her Bachelor of Science in Biology and went on to become a successful and established Wildlife Biologist for over 10 years. During this time Sarah was also learning about health and fitness and the importance of a healthy body and healthy mind, and started her own in-home Personal Training business, educating others on how to live a healthy and fit lifestyle.
Throughout Sarah's biology and fitness careers, she always kept her creative skills alive through sketching and painting. This passion has grown strong a few years ago and Sarah's true calling, an abstract painting, now plays a prominent and a firm role in her life. Sarah has become an established and successful artist, gaining recognition in solo shows, group shows, artist events, as well as having her art featured in the Globe & Mail, and on the television show CityLine. She spends much of her time now creating and experimenting in her studio with various materials and techniques.
Sarah's paintings exhibit elements of her diverse background, such as nature, water, movement, flow, and energy. Her work is engaging, organic, and vibrant, with a dynamic and inspirational twist.
Sarah's paintings aim to evoke inspiration through a bold texture and the intense colours. The artist is naturally drawn towards jewel tones such as emerald, turquoise, and amethyst, they are comprised of good energy and inspire feelings of happiness and tranquility. Sarah's paintings are intended to tell a story, interpreted by the viewer, for the viewer.
[cincopa AkLAbmLYjrcg]