ARTIST STATEMENT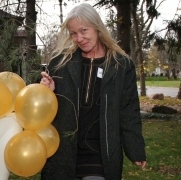 Joining the Richmond Hill Group of Artists was a motivation to discover my true authentic self and an artistic voice. A recent enjoyable discovery of manipulating with mixed media and utilizing a wide variety of texture and technique, has enabled me to capture the gesture, the movement, the essence of life itself.
The human form has a tremendous impact upon how I view the world. I have learned to feel and to see at a deeper level. I want to create what is in my heart and to transform the ordinary into something wonderful.
Guided by trusted instincts, along with welcome challenges to push myself to grow – the journey is a long one, the fearless process being the driving force.
http://openlifedrawing.blogspot.ca/
BIO
4 years General Studies program at the Ontario College of Art
10 years Resident Artist, Bayview Fairways Public School
Freelance illustrator, This Magazine
Editor/Proofreader, The Red Brick House
Life Drawing coordinator, Rhga.ca