Biography: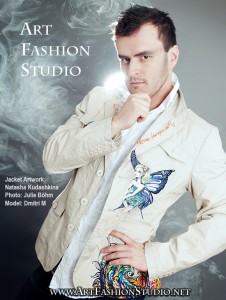 Dmitri Moisseev is a passionate Art Venturer and a creator of Art Fashion Studio. He is a self-taught Canadian photographer and holds a Master's degree in Biomedical Engineering, with a specialization in Medical Imaging. He works full-time as a research engineer, regularly contributes to FAJO Magazine (www.fajomagazine.com), and runs Art Fashion Studio with two locations in North America and Europe. He also comes from an artistic family; his sister Lana is a talented Moscow-educated painter and fashion designer and his mother Nadejda worked as a graphic designer for a publishing house. Dmitri has many international photo awards and lives in Ottawa, Canada. He often travels the world to work with some of the most talented artists, fashion designers and dancers. Art Fashion Studio offers professional services and portfolio development for fashion designers, models and makeup artists, as well as wedding and fashion events coverage. Dmitri's recent international achievements includes winning World Champion 2012 title in photography at the World Bodypainting Festival and publishing an international fine art calendar for 2014 titled "Bodypainting Adventures": http://www.calvendo.de/galerie/bodypainting-adventures/
Artist's Statement
Dream, dance, fly!!!
Life is too short and you must follow your dreams now and not make an excuse to put your dream away until a later day.
My dreams are many; on the artistic side, I am most inspired by dancing, art fashion, creative travel and my muse.
Art Fashion combines elements of fashion, makeup and bodypainting to create beautiful, short-lived colourful magic.
I invite you for an unforgettable ArtVenture!
[cincopa AMNAFTLd1VbI]