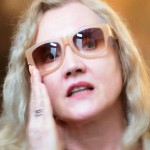 BIO
Ilona Biernot is a graduate of the Academy of Fine Arts in Krakow, Poland. She presently lives and works in Toronto. Ilona Biernot's works are found in private collections in Europe and North America. During her numerous visits to Italy and her residence there, Ilona became fascinated by the Old Masters whose works she studied in depth, and who greatly influenced her approach to art. It was in Italy that she began to focus on portrait painting, developing her skills in order to be able to make her portraits' studies of character. Her portraits reveal the essence of their sitters shedding their guarded exteriors, be they celebrities, or simply lovers of art. Ilona Bierot's artistic quest continues in a series of paintings which blur the boundary between the past and present. The works deal with themes taken from life and myth; topics which have engrossed artists throughout the ages. Through the use of modern symbols and motifs, she poses questions for which every individual has a personal answer.
Ilona Biernot breathes life into two dimensional portraiture, finding power and sensuality in the discarded and the delicate. You are invited to enter this world, and by chance catch a fleeting glimpse of that which might be a reflection from within.
Artist Statement
A flowering orchid is an inspiration not only for nature artists. Capturing the beauty and unique intricacy of the delicate flower requires the skills and sensitivity needed to paint a fine portrait. The orchid's delicate form blurs the boundaries between nature and abstract, giving my paintings a modern and highly decorative feel.
This is accentuated by the ornate gold/silver leaf backgrounds which give the paintings an inner light that illuminates and transforms any space they adorn. The mystical beauty of an orchid and its sensuality awakes the senses making the compositions gardens of pleasure.
[cincopa A4EAUDdgs42m]