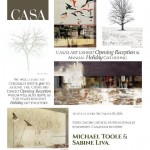 Urban. Art. Condo. is a new copyrighted Art concept/project created and curated by Julia Yakobi (Canadian Art Concepts Corporation). This Art concept/project is intended to present, promote and sell artworks of Contemporary Canadian artists and Canadian Fine Art photographers at the condos' ground floors, lobbies and other common condo spaces. Urban. Art. Condo. will increase the condos residents' awareness about the contemporary Canadian art scene and will provide a wider exposure to a broad diversity of the Canadian artists. This unique initiative unites interior design elements with fine art in a modern urban setting.
More importantly, it will add a colourful touch to the building, making the residents feel like the entire building is reminiscent of one big home.
This concept has been successfully unveiled with the Art Casa project's opening vernissage on Thursday, December 18, 2014 at Casa Condominio Residenza in Toronto. The project's (Art Casa 1) participants are internationally renowned artists Sabine Liva www.sabstudios.com and Michael Toole www.michaeltooleart.com
The duration of this exhibition and sale is: December 18, 2014 – April 30, 2015
Art Casa is an ongoing project with the plan to organize collective or solo art exhibitions and sales with a duration of 4 months for each show.
For more details, please contact Julia Yakobi at info@canadianartconcepts.com or juliayakobi@yahoo.com